Complete Story

11/03/2020
Oakley Standard Issue
Local Heroes Program Details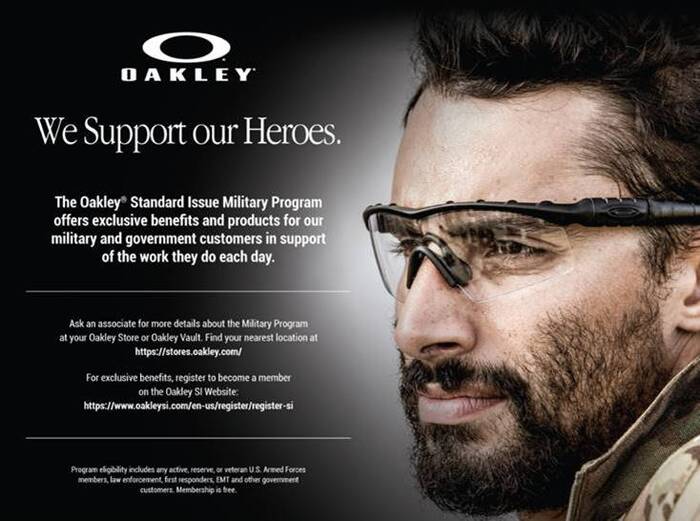 Oakley Retail Local Heroes Program Details:
Oakley now offers exclusive discounts for military members and eligible first responders at our Oakley Stores.
Eligible members will receive 35% off eyewear and/or 40% off apparel and accessories.
Our retail stores have a robust product offering so you can find all of your Oakley favorites in one place
This program is valid for the following eligible members (this also matches the SI website eligibility):
US Military and Federal Government Personnel, US Military Veterans and Retirees
Active Military Duty
National Guard
Military Reservists
US Coast Guard
US State and Local Government, Fire and Emergency Response
Law Enforcement Officers (State & Local)
Firefighters (Career & Volunteer)
Emergency Medical Technicians (EMTs) and Paramedics
US Government Executive Agencies & Intelligence Community
Department of Defense
Department of Homeland Security
Department of Justice
Department of Veteran Affairs
Central Intelligence Agency
Must show government ID and invitation in order to qualify.
Product exclusions & category limits apply.
---