50th Anniversary
Fantastic events lined up throughout the year!!

Did you know AFOS' first meeting was held in Hawaii in 1970? Join AFOS to kick off a great 50th Anniversary year in Hawaii! To help commemorate and celebrate, AFOS will be with the Pacific University at the 2020 Island Eyes Conference in Maui, Hawaii January 19-25, 2020!

AFOS SECO 2020 ~ Atlanta, Georgia
Time to celebrate our big anniversary! SECO International has graciously hosted and supported AFOS for many years and we are excited to commemorate 50 years with them in Atlanta. Join us at the Ritz Carlton for a fabulous meeting, service mess dress formal reception, and much more. The AFOS meeting will be held March 2-3rd followed by the SECO meeting March 4-8th, 2020.


** To see pictures from the event, click here.
AOA Optometry's Meting 2020 ~ Washington, DC ~ CANCELED
AFOS will be at AOA Optometry's Meeting at the Gaylord National Resort & Convention Center on the Potomac River in Washington, D.C., June 24-28, 2020. We will be hosting a reception to celebrate our 50th Anniversary and honoring ADM Michael Mittelman's induction in the National Optometry Hall of Fame.
AFOS SECO London 2020 ~ London, England ~ CANCELED
Join AFOS and SECO overseas and the Association of Optometrists (U.K.) at the Therapeutics London 2020. This meeting is a unique opportunity for U.S. and U.K. optometrists to network with one another and compare optometric practice in the two countries. The event will focus on therapeutic management of a variety of ocular diseases through specialist workshops, lectures and peer discussion. You will be able to earn 10+ hours of COPE continuing education and will be held in September 20-21 in London.
AFOS AAO 2020 ~ Nashville, Tennessee ~ CANCELED
Conclude this great year with a great CE event in Music City! AFOS will host another great 2-day meeting October 5-6th that will include cutting edge continuing education, annual AFOS awards ceremony, 50th celebratory reception, and more. The AAO meeting will run Oct. 7-10, 2020.
---
Featuring the AFOS 50th Anniversary Challenge Coin!
Help celebrate our big anniversary with an AFOS 50th Anniversary Challenge Coin!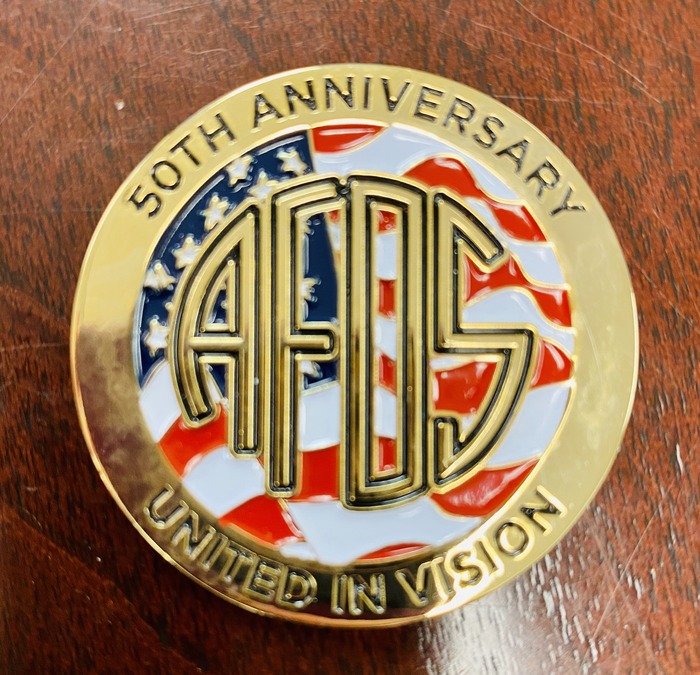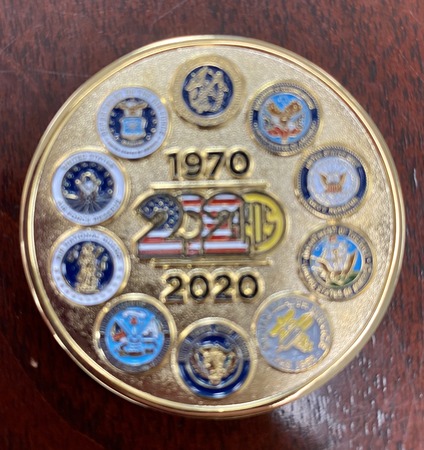 Challenge coins represent organizations, units, and teams. They can also represent an achievement, an anniversary or a special event. They build close-knit, lasting bonds between people who receive them and represent unity. They have a long-standing tradition in military history.
---

Join AFOS in New Orleans for a fantastic dinner riverboat cruise! Monday, October 9th from 6-9pm
We are excited to announce the AFOS riverboat dinner cruise event for the upcoming AFOS AAO meeting. After 4 great hours of CE, join your colleagues and friends for the evening.
You'll get an authentic New Orleans riverboat experience of a grand paddlewheeler on a leisurely, two-hour cruise down the mighty Mississippi River. Enjoy traditional live jazz, craft cocktails and all the beautiful New Orleans sites. Make sure you check out all four decks. The top deck is a sight to see!
Join us for a great discounted price! $35/per person. (Regularly $95) You are welcome to bring yourself, friends, and family! Reservations necessary. Spaces are limited so reserve today.

---
Featuring the AFOS 50th Anniversary Polo!
Help celebrate our big anniversary with an AFOS 50th Anniversary Polo. Sport-Tek® Micropique Sport-Wick® Polo by Nine Line Apparel. A veteran owned and founded company since 2012 with all production in the US in Savannah GA! "Founded by Patriots for Patriots".
Shirts can be ordered and mailed or distributed at the October AAO Meeting.
** Unfortunately, we are sold out of our Men XL at this time. If interested in this size, please email Dr. Wright directly to be put on a list.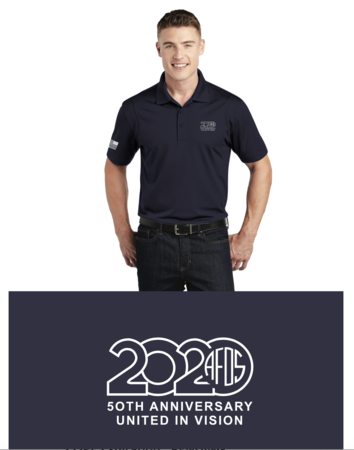 ---
Join AFOS in San Diego for a fantastic Harbor Tour!
Monday, October 24th from 3-5pm
The Admiral Hornblower is a 151 foot mega yacht newly restyled to modern elegance. We will enjoy the best sightseeing on San Diego Bay—with a professionally narrated harbor boat tour of San Diego. Join us on the water as we see Seaport Village, Shelter Island, ship-building and dry-docking facilities, Coronado Island, Point Loma, and Cabrillo National Monument, and much more!
As we cruise, we'll see delightful marine animals and majestic sea birds. Our onboard staff of local history and wildlife enthusiasts can't wait to share their knowledge with you for a truly memorable experience. You'll have plenty of opportunities to capture all the sights in photos and video.
Join us for a great discounted price! $25/per person. Limited to 50 guests so book today! Guests invited to join, as well!